About CrunchBang Linux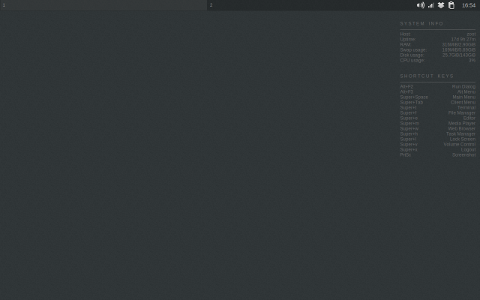 CrunchBang is a Debian GNU/Linux based distribution offering a great blend of speed, style and substance. Using the nimble Openbox window manager, it is highly customisable and provides a modern, full-featured GNU/Linux system without sacrificing performance.
The primary aim of the CrunchBang project is to produce a stable distribution offering the best possible out-of-the-box Openbox experience. To achieve this goal, CrunchBang pulls many base packages directly from Debian's repositories, which are well-known for providing stable and secure software. Packages from CrunchBang's own repositories are then customised and pinned to the system to produce what is known as the CrunchBang distro.
Put simply; CrunchBang could be thought of as a layer built on top of Debian, specifically to provide a great Openbox experience.
Features
Super nimble
CrunchBang uses the Openbox window manager. Openbox is lightweight and speedy, and as a result, CrunchBang is fast. Also, whilst CrunchBang is not primarily designed for older systems, it has been reported to operate very well where system resources are limited. Once installed, CrunchBang should boot-up and operate faster than a regular Debian GNOME/KDE installation.
Infinitely hackable
From the Openbox website:
Openbox is a highly configurable window manager. It allows you to change almost every aspect of how you interact with your desktop and invent completely new ways to use and control it. It can be like a video game for controlling windows. But Openbox can also be kept extremely simple, as it is in the default setup, meaning that it can suit just about anybody. Openbox gives you control without making you do everything.
CrunchBang also comes with many applications chosen specifically for their hackability attributes. These include Conky, the customisable system monitor tool, and Thunar, the popular and highly configurable file manager.
Ease of use
CrunchBang comes with the ability to play most popular media formats, including but not limited to MP3, DVD playback and Adobe Flash. CrunchBang also comes with many popular applications installed by default, including but not limited to Iceweasel (Firefox) browser , GNOME media player and Transmission BitTorrent Client.
Compatibility with Debian
With the exception of a few packages, CrunchBang is built entirely from packages available from the Debian repositories. CrunchBang uses the same APT package management tools and update manager. If you are already familiar with Debian or Ubuntu, you should have no trouble working with CrunchBang.
Why use CrunchBang?
A good question, here is what some of our community members have said:
Personally, I love the "weightlessness" of Crunchbang. A simple, efficient, speedy OS that can handle whatever I throw at it, it had me hooked. I had been a windows user for the longest time, but windows is just lacking a certain something that any linux distro contains, whether it's the freedom of customization, the packages, or the efficiency, I'm not sure, but it's more than just an os, it's an experience.
It was initially installed as a lightweight distro for a dying pc, following the recommendation of Puppy Linux World on Youtube - and I thought it was so great I adopted it as main OS. Especially as Ubuntu 12.10 was giving me gyp.

Debian is great but it's like some Communist country that after the revolution has purged itself of its artists as "bourgeois reactionaries" :

. And why the LXDE version comes with the whole LibreOffice including Base is anyone's guess.

But yes, #! combines looks, functionality and speed, as well as a great community. And echoing the thoughts of others here: many distributions come with too much bloat.
- Fast startup (fastest I have used so far).
- Doesnt use too much RAM. (I get ~70-80MB when idle).
- Fast. Perfect for my EeePC.
- Very simple and clean.
- Not too much applications pre-installed. I can add if I want.
- Forces me to use the terminal, which I like because I get to learn more.
- Forces me to configure using the configuration files, instead of a GUI, which is what I like, because I get to learn more.
- Cool name - #!.
- Great community, and very friendly too! I don't post much, but I visit a lot. Anytime I have a question in mind, it's a question that has been asked by someone before, and someone already solved.
fastest cleanest way to get a sweetly working out-of-the-box system with just enough more than "just enough" to make pleasant.  the perfect fully-working base system.

a lot of the "crunchbang inspired" distros are either too sparce (e.g. kwort) or overkill on the fickle stuff (archbang).  phillip strikes the balance well every time.  minimal where minimal is needed.  features where features are needed.

crunchbang is still my "go to" distro
I needed a lightweight but cool debian-based distro for my spare computer. #! is all of it! :-D
I have also tried antiX before #!, and it is pretty nice, too. But the community here seems to be much friendlier. :-)
In no particular order:
- Coolest distro name evar.
- Looks really geeky, especially with a lot of terminals open.
- It gets out of my way when I want it to.  No extra chrome to distract.  It has the simplicity I want from a tiling window manager but with normal key commands.
- Debian Testing.
- The community comes up with cool hacks like dunst and crunchbox.
- Crunchbang makes my Thinkpad x200 feel like a new laptop.
I use Crunchbang because of its simple design and fast performance.
I have an aging desktop machine that I don't want to throw away yet.

CrunchBang to the rescue!

Plus, installation works without mucking around, unlike official Debian.
I want to muck around after the install, not during :p
Tried because - Solid rep., appealing look, Debian repos...

Will keep using because - Speed, low resource use, clean / minimalist approach, superb functionality, and it's fun to use.
- it's fast as hell (I tried it first on a usb flash, with live session, and couldn't believe how fast it was, on a usb flash)
- stable (and by that I mean really stable)
- minimalistic (with the most important things, no bloat)
- works out of the box

thanks Philip
I use Crunchbang for it's stability.

I use Crunchbang for its romantic "CRUNCH!BANG!iness.

As a writer, director and producer, with a techie bent, I want to use an OS that 'just works' when what I'm looking for is a web-browser, text-editor, graphics program, etc. And it does!

As a techie with an artistic bent, I want to use an OS where getting under the hood is as easy as staying on the surface, where I can tweak conky scripts, or config files(in fact I'm encouraged to by the design).

#!Crunchbang attracted me with it's minimalistic theme and it's active community. Some of my first posts on here probably relate to me trying to get it running in the first place, and I'm still here because of those people. So, partially, I guess I use #! because of all of you!
‹
›